Capri is one of the most stunning places to visit in Italy. It is described as the pearl of the Mediterranean, with memorable glimpses, tasty food, and glamorous spots.
You only need one day to visit the island. That is why you could choose it as one stop of your stay in Naples – you could leave in the morning and come back in the evening. 
Pick the day and go visit Capri and Anacapri, admiring touristic attractions and some treats of the island.
Are you ready to discover what to see in Capri?
When you should travel to Capri
Before providing you with the information about what to see in Capri, we would like to recommend the best time of the year to come to the island.

As you could imagine, the months that most tourists choose are June, July and August, since this is the period for summer holidays.

Talking about Capri, that is the worst time, as you would probably spend most of your day on a queue to see the most famous places, or to catch the funicular, the minibus or the chairlift.

During the winter, instead, you should not go to Capri because of changeable weather conditions. They often cause the interruption of transportation to the mainland, or of boat visits to Grotta Azzurra or Faraglioni.

Hence, we recommend arranging your visit to Capri during spring – in March, April or the beginning of May.

The weather is perfect, and the island is not brimming with tourists.
How to reach Capri from Naples
As you probably know, Capri is an island in the Gulf of Naples, in front of Sorrento Peninsula – once attached to it – and near Ischia and Procida islands.
Capri is shaped by mid-height mounts, such as Monte Solaro and Monte Tiberio, and by internal uplands such as Anacapri. The coast hosts steep cliffs and grottos – the most popular one is Grotta Azzurra.
For your trip from Naples to Capri, you can reach Molo Beverello dock – only 15 minutes' walk from our hotel – to catch the hydrofoil, or Calata Porta di Massa dock – only 10 minutes' walk – to catch the ferry or the fast ship.
Our suggestion is to catch the hydrofoil from Molo Beverello, since both ferries and fast ships – as their name could mistakenly suggest – are slower.
The hydrofoil takes 40 minutes to reach the island, while the ferry takes 80 minutes and the fast ship almost 50 minutes.
However, you should be aware that the hydrofoil ticket is more expensive, and you cannot take motor vehicles with you.
Prices and times change according to season, hence it would be necessary to check this information the day before leaving for Capri.
In case of unfavourable weather – especially if your trip to Capri is during winter – it could happen that transports to the island are being cancelled.
You can buy tickets at the deck, however, especially during summer, we suggest being there at an earlier time to avoid not being embarked because of overcrowding.
If this should be the case, no worries! Our 'Capri' room will make you enjoy the island's atmosphere, and it will be a great starting point to experience Naples.
You also have a different option: buying tickets online from TraghettiLines. Also in this case, you would need to go to the box office, however you will be sure to have them.
Capri: from Marina Grande to the centre
When in Capri, you will disembark in Marina Grande, the main port. From there, you will begin your adventure at the island.

From the port, you have different options to experience your visit in Capri:

Funicular: it is in front of the deck, it will take you at Piazzetta di Capri in 4 minutes, and it costs €2. It leaves every 15 minutes, and when crowded it leaves continuously – remember from January until March it is closed due to maintenance;
Bus: there are minibuses which can transport up to 10 people at once. They leave every 15 minutes and there are different lines for each part of the island;
Convertible taxi: they host up to 7 people and they are a fun option to go around in Capri;
Motor-scooter: renting a motor-scooter is a great idea if you don't want to depend on public transports. Main rental shops are at Marina Grande port.

However, you could also visit Capri while walking – it is easy to reach places you are interested in.

From Marina Grande, it will take you 15 minutes to reach Piazzetta di Capri by walk, while enjoying stunning glimpses.

At this point, you should know how to go around in Capri. We can now focus on places you should visit.
Marina Grande
You know you will land in Marina Grande, the main port on the island. Here is where ferries, hydrofoils, and fast ships dock.
This is where tourists come and go, so it is chaotic and crowded, especially during summer.
Let yourself be captivated without being irritated, and by enjoying the view of colourful houses and the warm welcome of the island.

During winter, Marina Grande is owned by its residents who live on fishing. While during summer most of them work in the tourism industry.
It won't be unusual to meet people who will stop you and show you leaflets about restaurants suggestions or best offers to visit the island by boat.
Marina Grande will be the starting point of your visit in Capri. From here, you can choose which part of the island you want to reach.
Piazzetta di Capri
The famous Piazzetta di Capri is Piazza Umberto I, the heart of the island and 'drawing room of the world'.

If you come here by funicular, the view in front of you will be a terrace framed by white columns, overlooking the Gulf of Naples.

The Piazzetta is one of the most glamorous spots in Capri, where you can stop for a drink at one of the numerous bars.

Under the wonderful Torre dell'Orologio – rare example of bell tower divided from the church – time on the island beats with the sound of bells, every 15 minutes.

This is a small Piazza which will be crowded by tourists and residents during summer.

Everybody comes here for coffee, to read the journal or to have a chat before going to work or to the beach.

During winter, the Piazzetta will seem much wider: there are no chairs and tables, bars close, and a cold wind comes from the sea.

However, both during summer and winter, Piazzetta di Capri spreads an appealing atmosphere you cannot miss.

Near the Piazzetta, you will see some stairs leading to the former Cattedrale di Santo Stefano, the main church in Capri, from the 17th century, and to the Centro Caprense Ignazio Cerio, a museum about the history of the island, from palaeolithic to present days.

From here, we suggest to walk to the most ancient spot in Capri, the orange grove of Teresiane.

This is a silent and quiet place, far from the chaos of tourists in the Piazzetta, but still close to it – you can make a turn and find yourself in front of Torre dell'Orologio.

It's time for the next stop of your trip to Capri.
Giardini di Augusto and Via Krupp
From Piazzetta di Capri, walking on Corso Vittorio Emanuele you reach via Camerelle, where the famous – and expensive – Grand Hotel Quisisana is located.

Near the hotel, you can find via Matteotti alley, it will lead you to wonderful Giardini di Augusto in only 5 minutes.

There, you'll be surrounded by different gardens and terraces garnished with flowers. On one side, they overlook the stunning view of Faraglioni, while on the other, the enchanting Baia di Marina Piccola and Via Krupp.

At the beginning of 1900, the German industrialist Friedrich Alfred Krupp bought a property just behind the Certosa di San Giacomo, where he built his Capri residence.

Giardini di Augusto were born in this property, and they look after the most typical flowers and plants of the island.

There is a fairy-tale atmosphere and you will be surrounded by the Valle della Certosa, Monte Tuoro, Monte Tiberio, and Monte San Michele.

The ticket costs €1 and it is free for children under 11 years old.

We suggest to buy a €5 ticket which also includes the visit to Certosa di San Giacomo.

Giardini di Augusto opening hours are:
April, May, June, July, August, September, October: from 9:00am to 7:30pm;
November, December, January, February, March: from 9:00am to 4:30pm.

Since there could be changes according to season, always make sure to be informed about prices and times at info points in Marina Grande or Piazzetta.

To serenely enjoy the view, you should plan your visit during early morning or at sunset. Only then you would admire the beauty around you and the characteristic Via Krupp.

This road was required by the industrialist Krupp and realised by the engineer Mayer. It connects Marina Piccola to Hotel Quisisana. It was cut from stone, creating narrow bends which seem to overlap.

Via Krupp is one of the most charming streets in the world. Unfortunately, it is closed due to activities for the securing, because of rock fall.

We hope it will reopen soon. In the meantime, even admiring its authenticity from above will leave you breathless.
Villa Jovis, Parco Astarita and Villa Lysis
From Giardini di Augusto, you can reach Villa Jovis, the biggest of the 12 villas on the island, owned by emperor Tiberio in the 1st century AD.

You can go there by walking about 2.5 km, through Via Matteotti, Via Croce and Via Tiberio.

The route is uphill, so don't forget to wear comfortable clothes and shoes, and to bring a bottle of water.

Emperor Tiberio genuinely fell in love with Capri, in fact he left Rome to live on the island, and Villa Joris is the testimony of his love.

The Villa was built on a 7000 square meters area, it overlooks the Monte Tiberio promontory and the basin towards Cesina.

The view from the Villa is one of its best qualities:
on the northern side, it overlooks the Gulf of Naples, spreading from Ischia to Punta Campanella;
on the southern side, it overlooks the middle of Capri.

Villa Joris had a lighthouse which was used to keep communicating with the mainland. However, a few days after the emperor passed away, an earthquake destroyed it and part of the Villa.

Its architecture is typical of roman villas, with details recalling the structure of a fortress.

The emperor's residence was in the north wing, while his servants lived in the west wing, and the throne room was located in the east wing.

In the middle, tanks were placed to collect rain water which was used both as drinking water and as supply for the thermal baths.

Oddly, the remains of Villa Jorvis were ignored for years. This explains why many findings were lost.

Finally, in 1932, this archaeological site was recovered and promoted.

The ticket costs €6 and opening hours are:
from 1st June to 30th September you can access every day from 10:00am to 7:00pm;
in October: from 10:00am to 5:00pm (closed on Tuesday);
in November and December: from 10:00am to 4:00pm (closed on Tuesday).
In January and February, and on 25th December, it remains closed.

We suggest referring to Capri Turismo Info Point in Marina Grande or Piazzetta, in order to have updated information about times and prices.

Soon before entering Villa Joris, you will see Parco Astarita which is access-free. It is not well known, so you won't find many tourists.

Besides naturalistic beauties, the Park has two further qualities:

the terrace where you can admire the stunning view;
Capri's goats who graze freely – you could meet them while walking around.

After your visit to Parco Astarita and Villa Joris, we recommend Villa Lysis.

It was built in 1904 by Jacques d'Adelswärd Fersen, a Parisian nobleman overwhelmed by scandals, who voluntarily exiled in Capri.

Count Fersen made the Villa resemble his personality, and he made it to live his love story with a young roman boy, Nino Cesarini.

At the beginning of 1900, Villa Lysis was admired by artists, intellectuals, poets.

They saw the artistic and architectural beauty which merged different genres: from Luigi XIV style to neoclassical era, from art-nouveau to Greek magnificence, from Vienna Secession to oriental influences.

The splendour of this Villa overlooking the sea is also justified by its elegant staircase. On top of it, the inscription 'Amori et Dolori Sacrum' demanded by Count Fersen.

The ticket for Villa Lysis is €2 and the opening hours are:

April – May – September – October: from 10:00am to 6:00pm;
June – July – August: from 10:00am to 7:00pm;
November – December: from 10:00am to 4:00pm.

The route between the two Villas and Parco Astarita is one of Capri's gem you cannot miss.
Grotta Azzurra
You cannot say you have been in Capri if you do not let yourself get involved in the Grotta Azzurra magical atmosphere.
Sculptures found on the bottom suggest it is known since ancient romans.
For centuries, visitors avoided Grotta di Gradola – former name of Grotta Azzurra – because of popular legends about demons who haunt it.
Luckily, it was rediscovered and given value on 18th April 1826 by the German writer August Kopisch and the painter Ernst Fries, escorted by the local fisherman Angelo Ferraro and the notary Giuseppe Pagano.
Grotta Azzurra entrance can be reached by boat from Marina Grande or by bus from Anacapri.
Boats sail from a dock that can be reached by foot, however it is a strenuous route made of little steps.
We warmly recommend visiting Grotta Azzurra and choosing it as must-see place. We can assure you that this will be a one-lifetime experience: entering a grotto which is 60 metres long and 25 metres wide, in the dark and surrounded by crystal water.
A surreal and almost magical atmosphere awaits you. As soon as you will access the grotto, your eyes will get used to the dark and they will experience different shades of blue, you will be thrilled and breathless.
Once you get to the deck to reach the entrance, you can only access Grotta Azzurra with a 4-seats rowboat, carried by a skilled sailor.
The €14 ticket can be bought at the floating box office: you only need to get on the boat and be aware that you will need to lie down to pass through the narrow entrance to the grotto which is about one metre high.
Your visit to Grotta Azzurra will last 5 minutes, however you could also be waiting for one hour before entering, especially during peak season.
Inside, the sailor may sing typical Neapolitan songs which will complete the frame.
You will be in one of the most beautiful natural wonders on earth, with the proper musical background, and lulled by waves.
While on the outside everything will go by, you will be in a blue bubble suspended in time and space.
Inside Grotta Azzurra, swimming is forbidden, especially because the entrance is too narrow and even a little wave could make you violently hit the rocks.
We recommend to plan your visit to Grotta Azzurra when it is not cloudy, since the magic of the colour of water is given by the sunbeams, stronger between 12:00 and 2:00pm.
Moreover, you should consider rough sea or rainy days, when the Grotta remains closed. As well as in case of south-west wind which impede the entrance.
If you want to be sure of your visit, and have an exact schedule, you should demand information before going to the entrance, at Motoscafisti di Capri jetty, by calling +39 081 8375646.
Faraglioni di Capri
Faraglioni are a further symbol of Capri, known all over the world: three imposing and majestic cliffs emerging from water.
Belvedere di Targara is the perfect spot to see them from above and take a photo with these three majesties in the background.
A postcard view: Faraglioni fully plunged in sky and sea's thousands shapes of blue.
Since ancient romans, until artists and literates from the beginning of 1900, this area was seen as the perfect spot to build residencies overlooking an inspiring and motivating landscape.
However, the best way to enjoy Faraglioni is to watch them closely, from the sea, on a boat trip passing through the arch of the Faraglione di Mezzo.
According to a legend, if lovers kiss while passing through the arch, it brings them good luck.
Faraglioni di Capri are 100 metres high on average and they are known as:
Faraglione Stella: the one closer to the coast;
Faraglione di Mezzo: the smallest one and the one with the arch in the middle;
Faraglione di Fuori, also Scopolo: this is where the famous Lucertola Azzurra lives.
Close to them, there is a fourth Faraglione, known as Monacone, from the Bove Marino – or Monaco – who once lived in this area.
If you want to enjoy a dive in the shade of Faraglioni, choose one of the beach resorts in front of them: La Fontelina and Da Luigi.
You will not regret the time spent by the sea, the sun, and Faraglioni.
Anacapri
Anacapri is a small heaven on earth, where you can take a walk surrounded by colourful houses and quiet streets, dressed in geraniums and bougainvillea.
If reached by bus, the main stop is Piazza Vittoria, reference point for two valid options:
the chairlift leading to the top of Monte Solaro;
the walk on Via Capodimonte which leads to Villa San Michele Museum.
Anacapri old town is crossed by Via Giuseppe Orlandi, a pedestrian street surrounded by workshops and places of interest:
Casa rossa: residence of the American colonel John Clay MacKowen, painted Pompeian red and enriched with archaeological findings that he discovered during his walks in Capri. Here you will have the chance to visit the permanent exhibit "L'Isola dipinta: viaggio pittorico a Capri ed Anacapri tra Ottocento e Novecento" and the sculptures recovered from the bottom of Grotta Azzurra;
Chiesa San Michele Arcangelo: Baroque building intriguing plenty of tourists for its majolica floor portraying the Banishment of Adam and Eve from Eden;
Chiesa di Santa Sofia: it is characterised by the barrel vault and the Baroque style façade which hides part of the bell tower behind it;
Piazza Boffe: one of the most ancient contrada (district) in Anacapri, where you can enjoy the barrel vaults of ancient houses built by expert masons.
Therefore, as we mentioned, Anacapri is a little gem you cannot miss during your stay in Capri.
Conclusions
We hope you now have all useful information to plan your visit to Capri and to reach it from Naples.
We look forward to welcome you in our hotel in the city centre of Naples, and to provide you with even more details about your visit.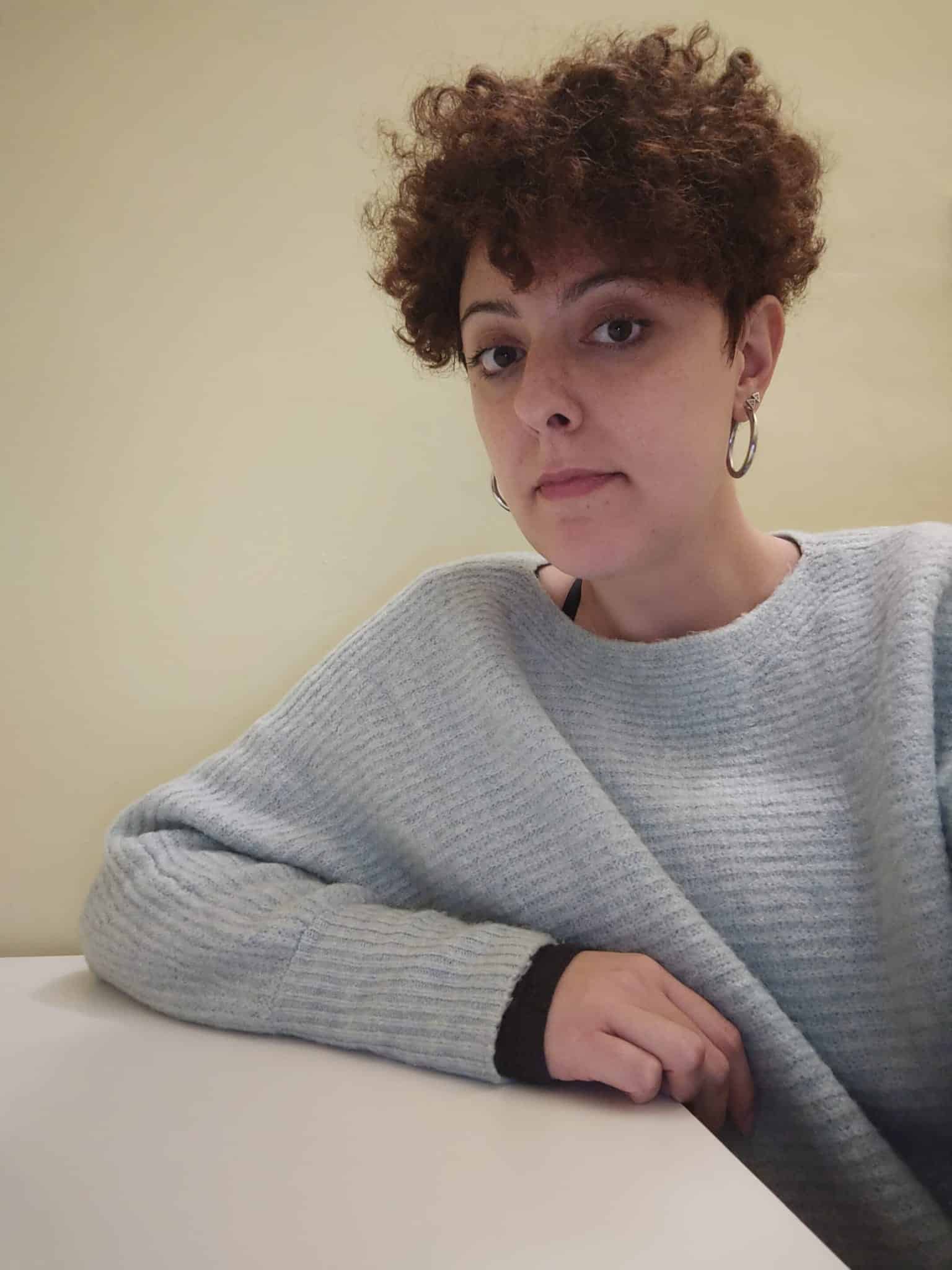 Insegnante di lingua e letteratura inglese per la scuola secondaria, traduttrice e correttrice di bozze. Coltivo con devozione e premura l'interesse per la cultura giapponese, e nutro tutte le mie altre creature con la stessa cura: libri, film, musica. Viaggio tanto, ma resto figlia di Partenope.